It's no secret that telling the stories of great people and brilliant ideas is what we do best at TMG.
So when a project like The FA & McDonald's Grassroots Football Awards comes around, to showcase inspirational grassroots heroes and the impact they have in their community, you know it's got our entire team's attention.
We've proudly worked on the awards for over 4 years now, each time making a collective effort to make it better than ever before. From production to design, strategy to sound – we give it our all and the results never disappoint.
Here's a look behind the scenes to see how our makers made it happen at this year's 2021 awards. Let's go!
Make it matter
Categories & Nominations
Many long-running awards run the risk of becoming predictable and boring, which is why each year we work with The FA to inject some originality, switching it up with new exciting categories that recognise new developments in the sport and tie into what's happened that year.
And like with everything we do, it all comes down to people – telling their stories in a way that matters to the right audience.
TMG Creative Director, Ashley Matthews explains:
"Whilst there hadn't been as much football played in the last 18 months, we used the Awards as an opportunity to capture the spirit of grassroots, especially all the work that's happened off the pitch to keep the community together. We refreshed the creative for the award nominations so people still felt they were new and exciting – it's all about finding new angles in a 4 year old brand to keep people engaged."
Once the categories are finalised, it's onto design to create nomination assets and videos to share across the national social channels, so we can find the community heroes.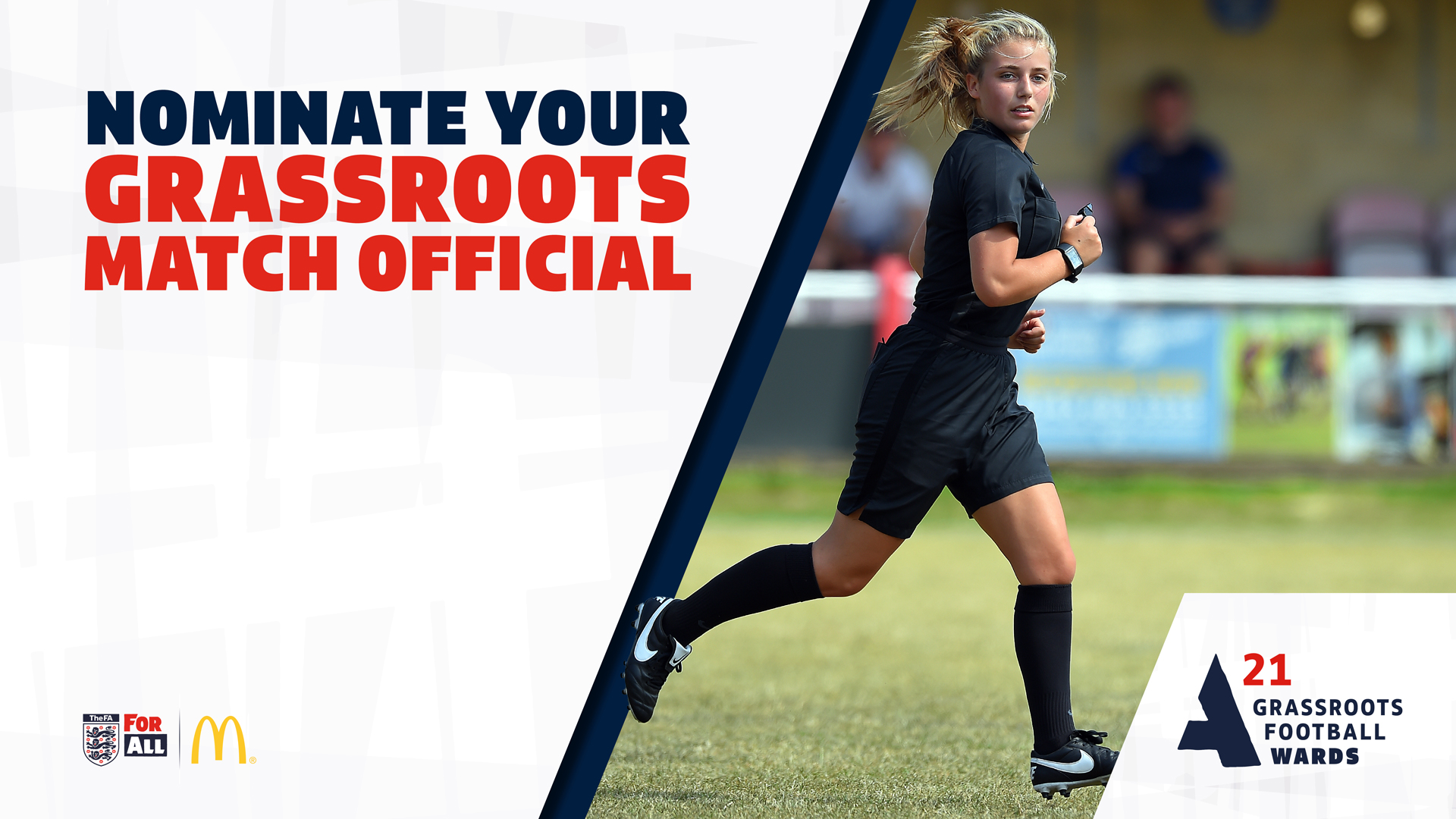 Make it move, make it moving
Filming & Production
Time to get on the road. One of our favourite aspects of the awards, once the nomination voting has finished, is going into the communities to film, to bring to life the stories of our award winners through their own personal video.
Knowing these videos will be shared across both national social channels and during the award ceremony itself, means our makers have to get the right balance of keeping it punchy, whilst capturing the essence of what the winners have achieved.
Making it swift, moving and memorable.
And we love it.
As TMG Producer Nolan Benson puts it:
"Telling the stories of the winners of The FA and McDonalds Grassroots Football Awards is always a rewarding experience, but even more so after the year we've been through. Meeting all these people has once again shown the importance of having a good community around you. Sport, especially football has a way of bringing people together like nothing else and all the winners have gone above and beyond to make this happen"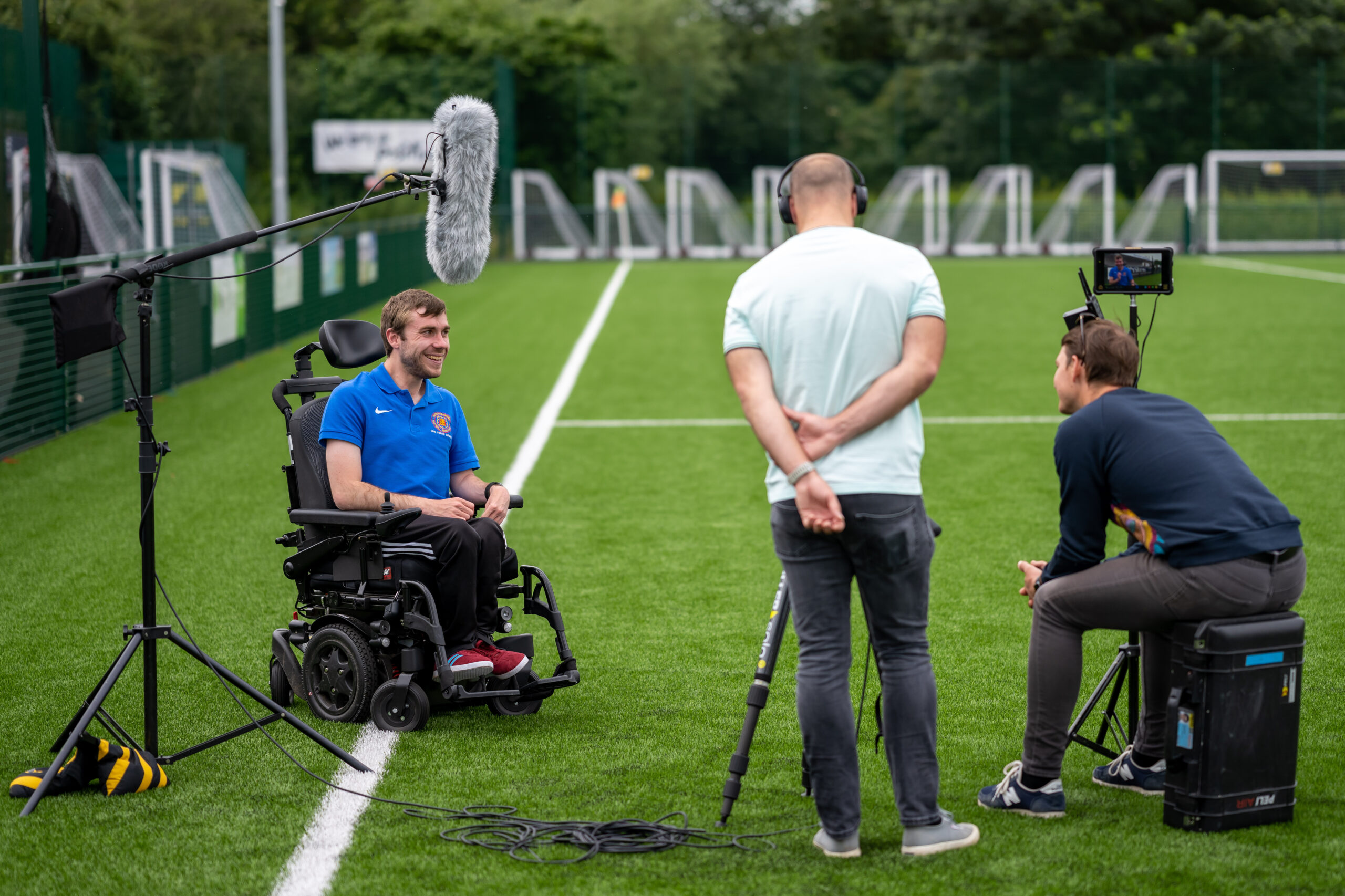 Bring it together
Design
Any campaign worth its salt is recognisable, whether you see it on an Instagram feed or in print, which is why when it comes to design it's all about bringing it all together.
Our creative makers created the social assets, videos, the awards presentation and brochures, right down to the award itself – all with the campaign branding and style in mind.
As TMG Designer, Nat Fearn, explains:
"This year's awards graphics and print collateral needed to incorporate England Football's new branding (which launched during planning) whilst keeping the focus on our grassroots winners. We did this by using gold and white to stand out effectively on the red England Football branding, creating a simple but stand out feel designed to capture attention."
Bring it to life
Awards ceremony
There's nothing quite like seeing your designs and hard work 50 meters high across Wembley Stadium. As we walked down to the awards ceremony, our team were greeted by our Grassroots Football Awards logo sprawled high across Wembley's huge screen.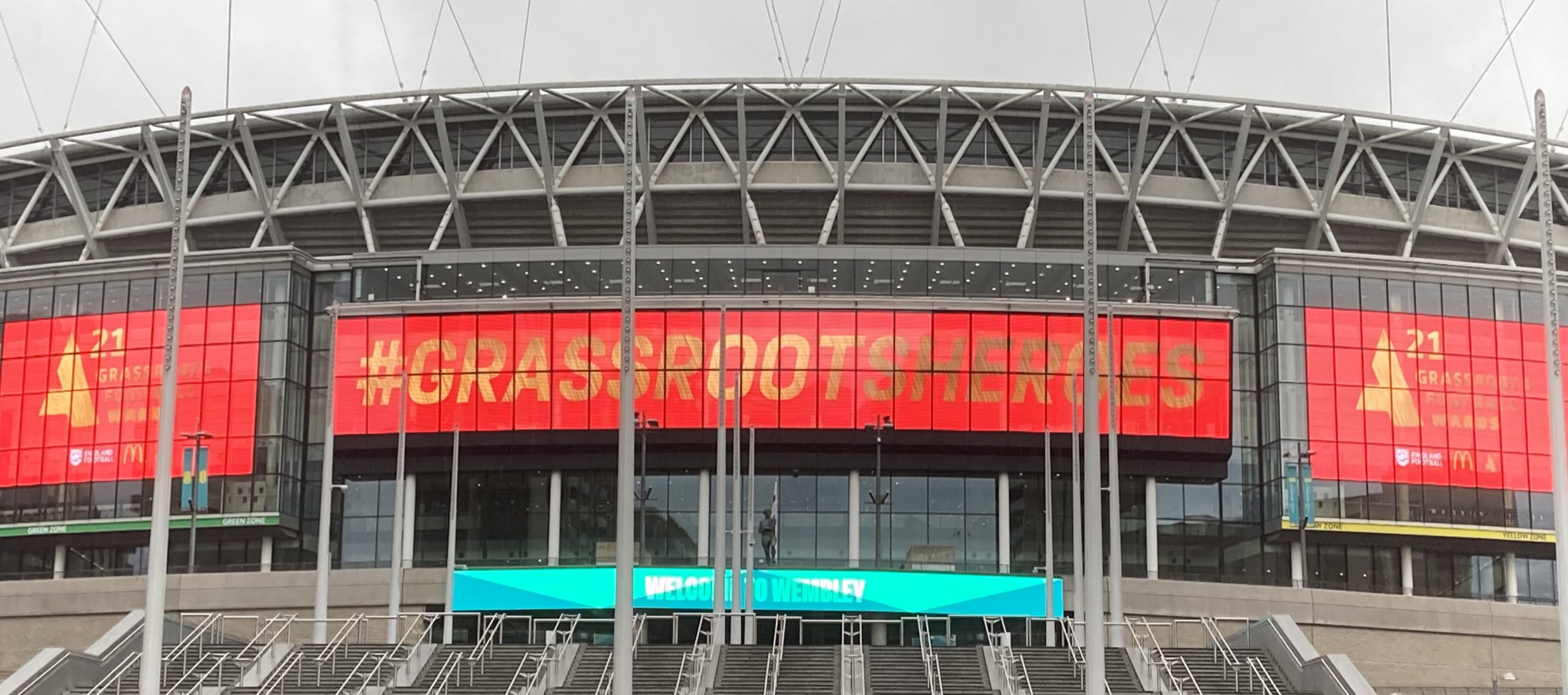 As we reached our table, TMG designer Yazz flicked excitedly through the award brochure, proud of the quality and how we'd captured the winner's stories.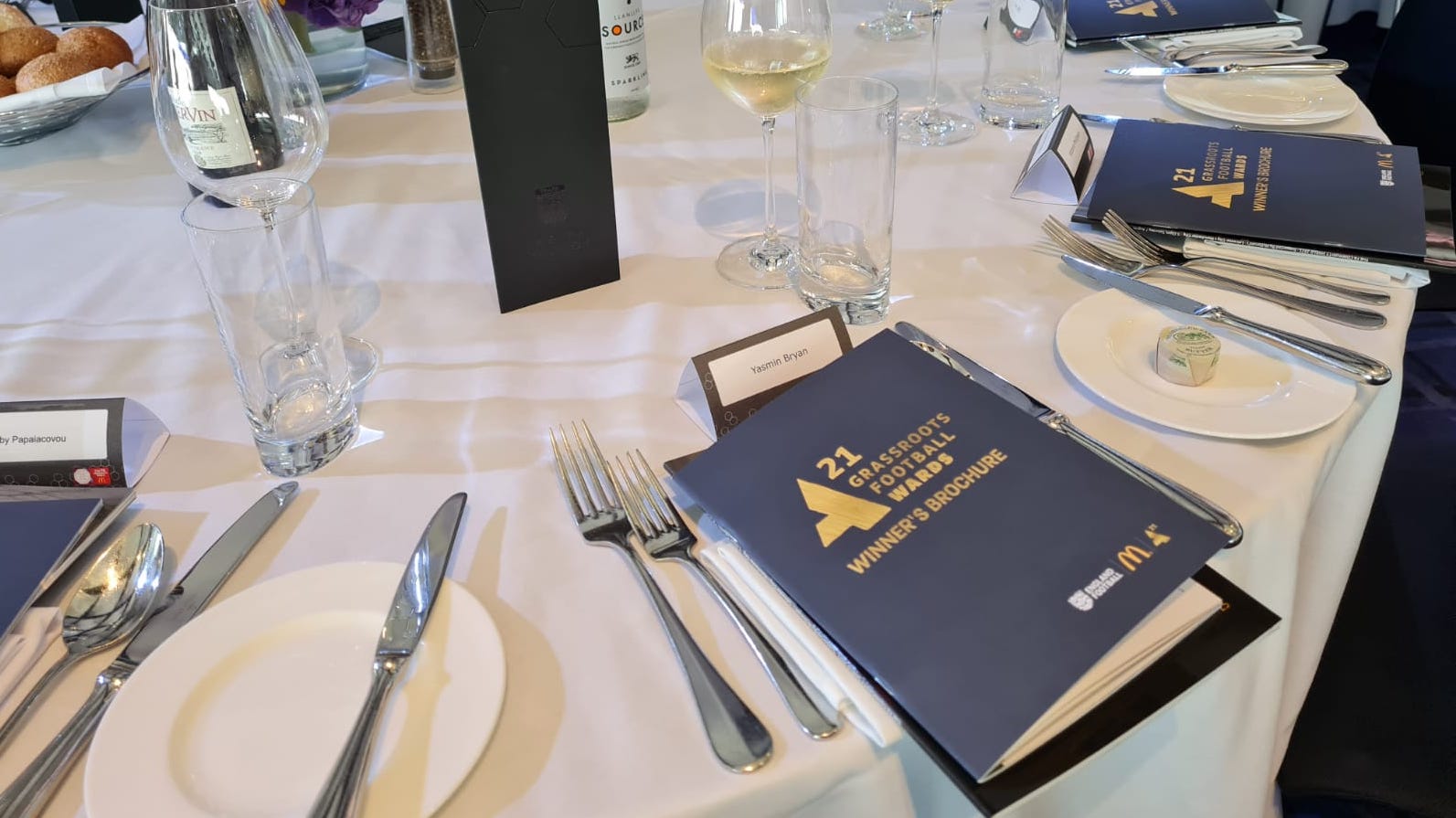 Then it was onto the awards itself, the main event, what we'd worked passionately on over the last 3 months.
Seeing the winners onstage after their video reveal was incredibly moving, to play a part in such an important ceremony is why we do what we do (even better when there's not a dry eye in the room!).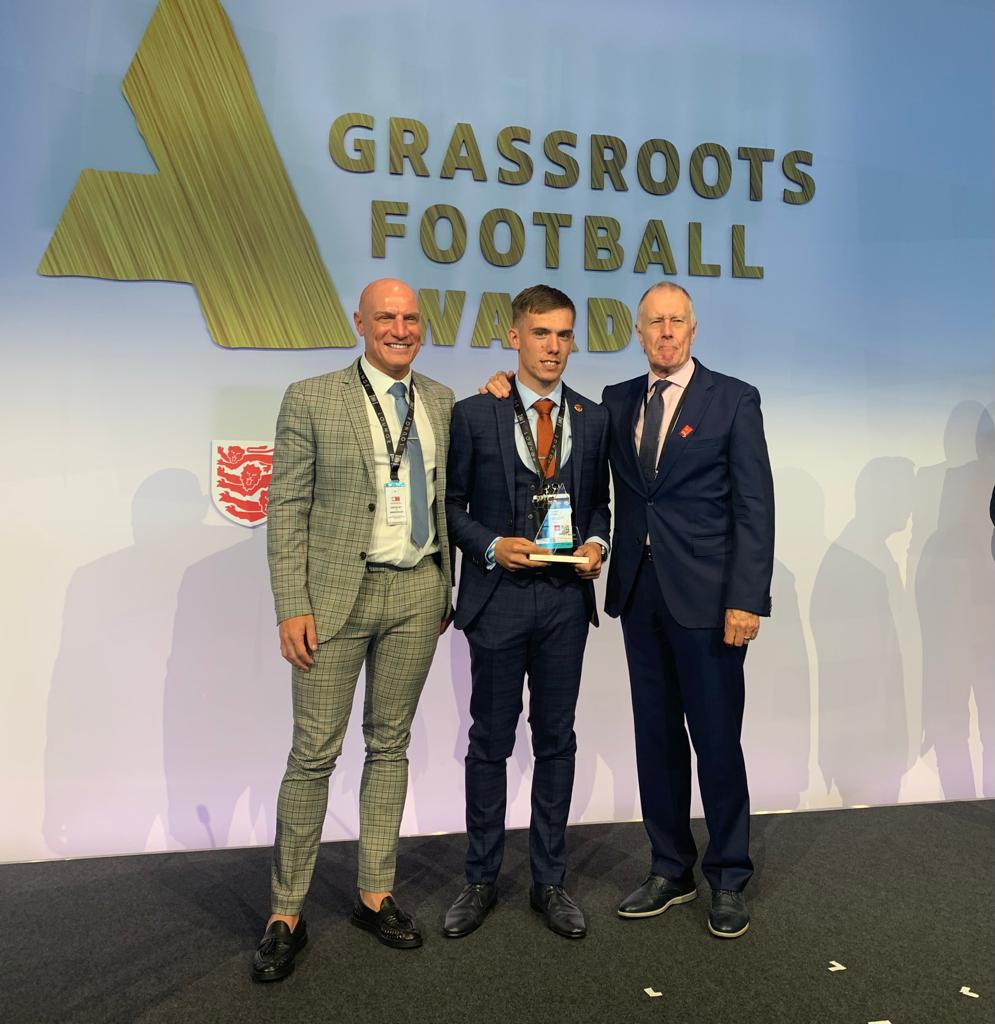 Never one to miss an opportunity, in between awards we also used the incredible Wembley backdrop to shoot a live recording of The FA's In The Box podcast. Both in the ceremony room and down on the pitch itself.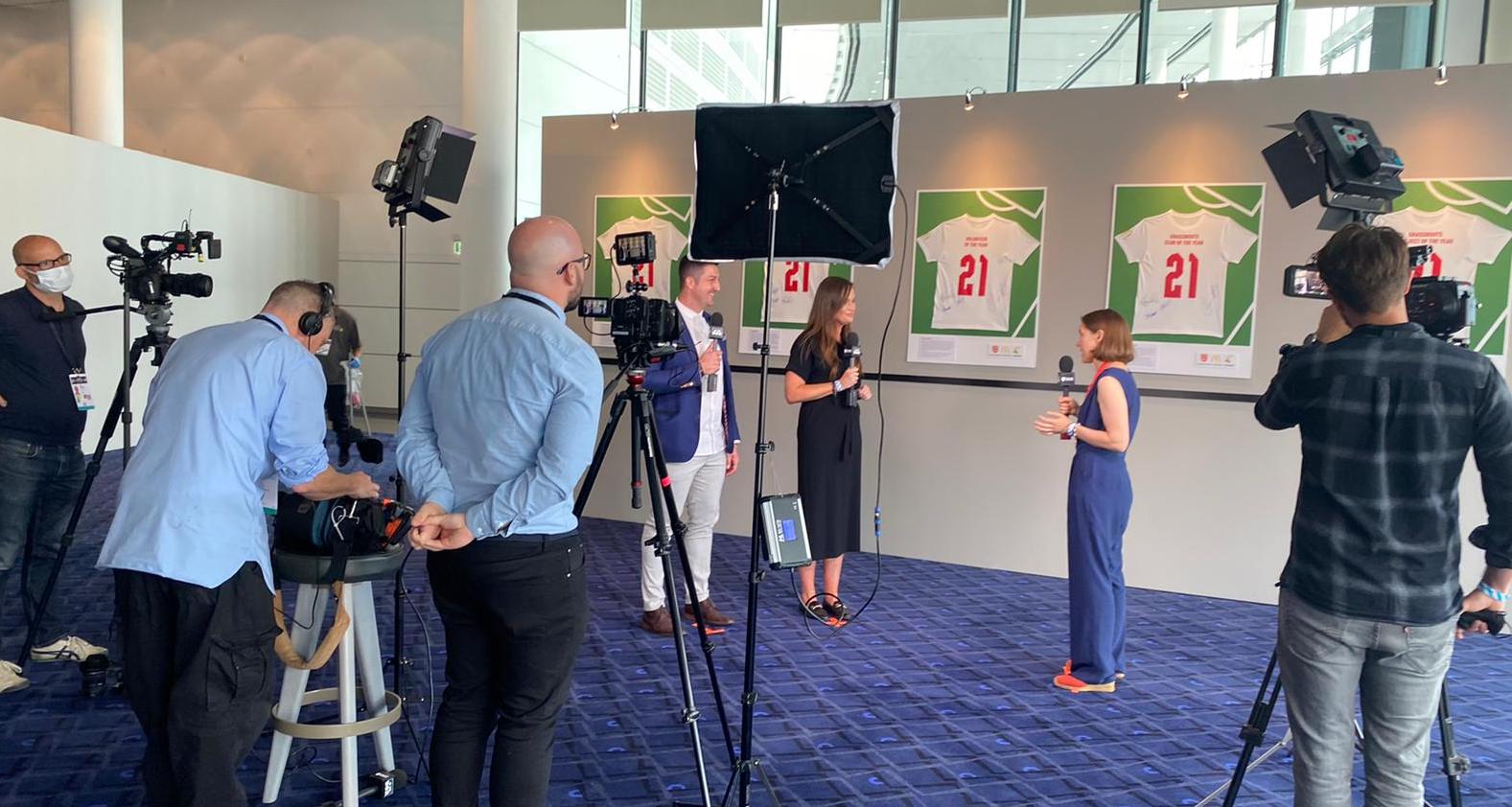 The verdict
So, what did our client think? We asked The FA National Clubs and Service Manager, Tom Lee, what he thought of this year's awards:
"It's one thing reading a nomination and selecting 12 national winners but to take that and bring their stories to life through images and film is what the makers at TMG nail time and time again. If you want to feel inspired and motivated whilst being moved by each award winner then just check out the award winners VTs TMG created.

As for the ceremony itself, being able to share a room with the people who make the grassroots game what it is, is one thing, but to see how it's all pulled together through TMG and their creative inspiration and ideas, from programmes on the table, lock ups on the wall, to the messages going around the digital boards within the stadium, makes the whole event mind blowing."
That's it! Another awards year completed and another year achieving better than before. Thanks to all our creative makers for making it happen.
Make it with us
If your brand would like to chat award shows, video production and telling moving stories – get in touch with our creative makers today.